Your child's first dental visit should take place before he or she turns 1. In fact, it's ideal to take your child to a dentist 6 months after the first tooth has erupted. Starting them young is the best way to build the foundation for a lifetime of good oral care habits and also reduces the child's fear of the dentist's office.
Before the visit, it's important to talk to your child about what to expect from the upcoming visit. We would also request you to bring any records of your child's complete medical history.
What to Expect on the First Visit
Many first visits are designed to acquaint your child with the dentist. Short, successive visits help build the child's trust. If the child is calm and cooperative, the first session will usually last no more than 30 minutes and may include the following:
 A thorough examination of the jaws, bite, gums, and teeth.
 A gentle cleaning of the teeth to remove plaque, tartar and stains.
X-rays
Assessment for the need of supplemental fluoride
A demonstration on proper dental care at home
Protecting Your Child's Oral Health at Home
Parents should provide oral hygiene care for their children until they are old enough to brush and floss their teeth correctly. The following are ways to care for your child's oral health:
Use a clean, damp cloth to clean your baby's gums after each feeding.
 If the first tooth has already erupted, start using a soft bristled toothbrush to clean it.
Don't give your child a bottle of milk or any sweetened liquid at bedtime.
Prevent your child from developing poor habits like thumb-sucking and teeth grinding.
Your child's primary teeth are integral to their lifelong oral health. The first dentist visit is a wonderful opportunity for you as a parent to learn how best to care for your child's teeth.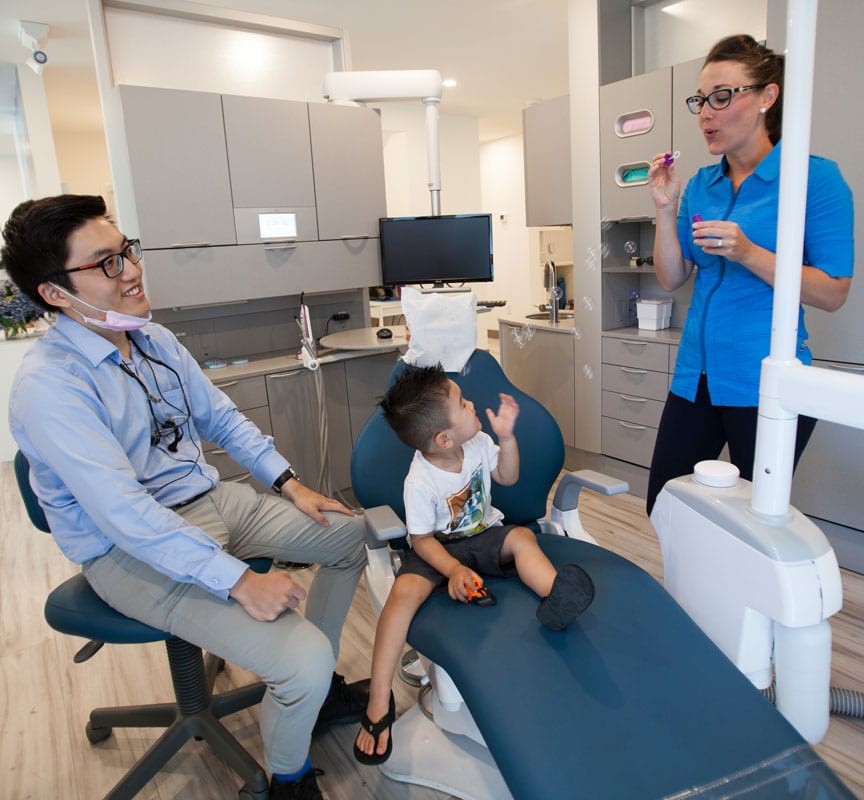 Ready to book
an appointment?

Cadboro Bay Dental
3849 B Cadboro Bay Road.
Victoria, BC. V8N 4G3
Hours
Monday - 8am to 4pm
Tuesday - 8am to 4pm
Wednesday - 8am to 8pm
Thursday - 8am to 4pm
Friday - 8am to 4pm
Saturday - 8am to 2pm
Closed Sunday